Ideally, you'd take all of the classes that Babies in Common offers. Why? Because information is amazing and you want to have it all! If you take all the classes and read the bonuses you'll receive, you'll learn all the information that a hospital class would cover plus lots more time and emphasis on natural pain coping techniques such as positions and movement, massage, advocacy, deep breathing and relaxation in preparation for labor and birth. We know that flexibility is key in birth and sometimes medication, interventions and even surgery are needed so we'll talk about strategies to help you decide whether to choose/accept them, how to reduce the risks and side effects that can come with these things, as well as how to enjoy your birth even if it doesn't end up the way you planned.
Additionally, the content of our classes, including the bonuses, includes much more than a hospital class (between us, we have years of experience teaching at four hospitals). Jeanette is also an experienced doula who attended over 100 births at many different hospitals and witnessed how flexible and creative (and sometimes not–so-creative) providers can be. She is also a mother of two, one born in a hospital and one at home. Melissa is an experienced labor/delivery/postpartum nurse who has worked at four hospitals. She's also a mother of three (two born in two different hospitals and one born at home). As independent childbirth educators, we don't have to tell you certain things and omit others. We can tell it like it is and encourage you to work with your care providers to communicate well and ensure you're on the same page before, during and after your birth. It's YOUR birth, after all, and they work for you! Everyone wants you and your baby to be healthy, of course, but there are different ways to get there.
To find out when our classes are, click on the calendar icon. Once you purchase a package, you will then use the code provided in your confirmation email to "pay" for each class. We are excited to meet you!
You are expecting a baby and want to learn as much as you can before their arrival. Smart. I have spent my whole adult life learning about babies and birth and parenting and breastfeeding and want to share that info with you...so you can make the decisions that feel best for you. It's not about what I think, it's about sharing information with you so you can decide. The first decision (after deciding to come to this webpage) is which classes to take at Babies in Common.
~ Jeanette Mesite Frem, childbirth educator, lactation consultant and owner of Babies in Common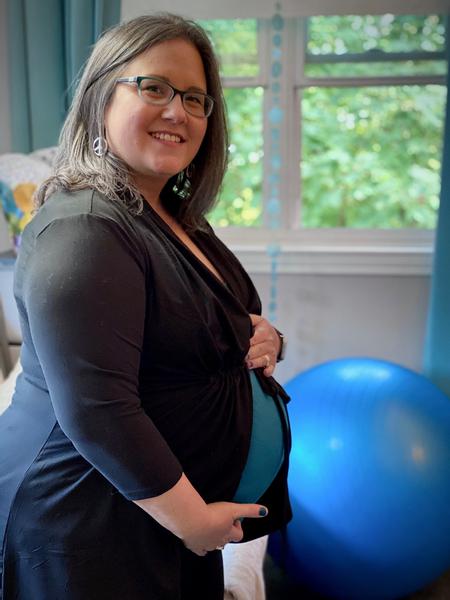 All of our class participants are welcome to ask us for...
Assistance with conceptualizing and writing your birth plan or ask our opinions on gear for birth, baby and breastfeeding (Jeanette used to own a maternity and parenting store, ya know, she knows a thing or two!)
Our daytime/evening availability to you via via text, and email (at no additional cost, and sometimes phone calls are possible, just ask!) to help you talk through any issues during pregnancy and early labor (in-person private consultations can be arranged for a fee). Note: if you'd like someone to talk with you and help you during all parts of labor and at all hours, it's best to hire one of the wonderful doulas that are available. Click here to find a list of doulas and many other people you might want to work with!
Feel free to contact us for support after you have your baby related to baby care and breastfeeding support. If issues warrant a feeding consultation, we will let you know (Jeanette is an International Board Certified Lactation Consultant--who wishes we were called "feeding consultants" instead!
Ongoing communication with us, if you need it or want it–we're happy to support you as you get more comfortable with being a parent!
Do health insurance companies reimburse for these classes?
Some insurances also reimburse for birth, feeding/pumping and newborn care classes, you'll be given a special receipt/proof of attendance after you finish all your classes to submit to your insurance company to request reimbursement. Call your insurance for details. It's more expected that a prenatal breastfeeding class like Breastfeeding Ready would be reimbursed than the other classes, but it depends on your plan.
What if I don't plan on nursing or pumping and therefore the Breastfeeding Ready isn't appropriate for me?
Then we can schedule a private bottlefeeding class (virtually, about one hour long) with you. We can go over all updated information about bottlefeeding a baby and formula and give you guidance on how to treat any engorgement you have in the first few days/week, as that often happens as milk comes in and we'd rather help you be comfortable and have some solutions to quickly reduce any milk production. We can find a time that works for both you and your partner and even a weekend or evening is often an option. Send an email to jeanette@babiesincommon.com to discuss scheduling this after you purchase a class package (or beforehand, if you have any questions).
What if I'm on MassHealth or WIC or me or my partner are active-duty military?
If you are on MassHealth or either parent is active duty military, there are discounts available on packages (that's IN ADDITION TO THE package prices, so it REALLY encourages you to take ALL the classes!!).
35% off for MassHealth subscribers (enter MASSHEALTHPKG and send a photo of your MassHealth card to jeanette@babiesincommon.com)
10% discount for military families (if either parent is active duty, I am an Army Brat myself!, just enter ARMYBRATPKG and send jeanette@babiesincommon.com a photo of your active duty military ID)
NOT SURE ABOUT REGISTERING YET?
We are happy to answer your questions, just email jeanette@babiesincommon.com.
Note: Refunds are available if you have your baby before you can attend a class, of course, but they will be prorated based on the classes you have taken.
~~~~~~~~~~~~~~~~~~~~~~~