Feeding babies can be done in different ways: breast, chest, finger, cup, spoon, syringe, bottle...and with parent's milk, donor milk or formula. Of course, the most important thing is that babies are fed enough to help them grow and thrive BUT here at Babies in Common, we want to help you in all the ways you want to feed your baby (and sometimes we have to talk about alternatives to what you want). If you need help with any type of feeding, we're here to help. No judgment--it's all about meeting your goals through information and techniques to support those goals.
When is a Feeding Consultation Needed?
While breastfeeding is "natural", there are two people learning how to do it. Some folks make plenty of milk and babies latch fabulously and grow well and don't need help, which is awesome!!
If you are pregnant and have risk factors for feeding challenges (previous breast surgery, PCOS, diabetes, planned Cesarean, previous breastfeeding or milk production issues) or just want a one-to-one session before you give birth to ensure you have as much information as possible, schedule a Prenatal Consult.
BUT if feeding ISN'T going as well as you hoped it would and if you have any of the following concerns (this is not a full list of issues one might have, of course), then it's an appropriate time to schedule an Initial Consultation as soon as possible, or if you are having pumping or bottlefeeding issues, there are special consultations for those. Consider a package plan (several consultations with a discount, so you get better continuity of care).
sore or damaged nipples

painful latch or nipple/breast pain

feeling like or knowing there's not enough milk to feed your baby

oversupply of milk or baby choking on milk due to heavy spray

recurring plugged ducts or mastitis

baby isn't latching (breast refusal)

tongue-tie & lip tie (suspect tongue or lip tie? Schedule a visit before you decide what to do about it, and/or one before and/or after you've had it released)

pumping concerns or just to have a flange fitting to see if there's a flange that would help you yield more milk (I have many types and when we find something that works better than what you have, you'll usually leave with the flanges that work for you, for a small additional fee)

baby isn't gaining weight appropriately

learning about alternative feeding methods

going back to work

baby is refusing the bottle or leaking from bottle or gagging when feeding on bottle

reflux, colic or excessive crying

baby losing weight or not gaining when baby was gaining well previously

you just want to ask a bunch of questions and have the undivided attention of an International Board Certified Lactation Consultant!
Consultations are held in our cozy office in Northborough, MA or virtually.
Of course, if you are coming in-person, as most of our clients choose to do, if you have any symptoms of contagious illness or known exposure to COVID-19, then let us know and we can reschedule the appointment or reschedule it to a virtual visit at the same time. Your IBCLC-lactation consultant and her mentees will sanitize any equipment they are using, wash their hands often and wear gloves when doing an oral exam of your baby.
Does Health Insurance Pay for Feeding Consultations?
The Affordable Care Act of 2010 requires insurance companies to reimburse for "comprehensive lactation support and counseling, by a trained provider during pregnancy and/or in the postpartum period, and costs for renting breastfeeding equipment", some insurance companies/plans are better than others at following the spirit of the law. No one except your health insurance company representative can guarantee reimbursement but your IBCLC-lactation consultant will try to help as much as possible. Please see this blog post, written by another IBCLC, on why insurance doesn't pay and why sometimes they do but won't tell you that they will in advance. Additionally, we have set up an easy way for you to appeal to your insurance plan if you have a claim that is rejected. Click here for that.
Your plan SHOULD reimburse you after YOU submit a request for reimbursement. Right now, Health Plans, Inc./Harvard Pilgrim, Tufts Health Plan, MassGeneralBrigham, Blue Cross Blue Shield (New England and MA), are all great about reimbursing (often for unlimited visits, check your plan).
HOWEVER, United HealthCare/UMR are not reliably reimbursing for lactation/feeding visits. They say they'll reimburse with a referral but often do NOT reimburse, click here for more info, but also note there is a class-action lawsuit against United if you don't get reimbursed, click here for more info).
Unicare-GIC and Neighborhood Health are saying they will reimburse you fully (or partially), but CONFIRM WITH THEM DIRECTLY (but if they say no, DEMAND to speak to a supervisor!!).
Other insurances may or may not reimburse, it depends both on your plan AND how many times you appeal a denial.
We cannot accept checks from any insurance company, so if you hear they will issue a check to your lactation consultant, then it will NOT be accepted.
Ultimately, we cannot guarantee anything, as we are not in-network with any insurance at this time. As stated above, we will help as much as possible, but the fee is expected to be paid at the time you schedule the visit online.
You will be provide with a special receipt (Superbill) within a week of your consultation. Call your insurance 6 weeks after you consultation if you haven't yet received reimbursement. To appeal to your insurance plan if you have a claim that is rejected. Click here for that.
Aetna subscribers: if you see that we are in-network with Aetna, that is incorrect, they have been informed but not yet taken the name off their roster.
Notes About Fees
Fees for Consultations
Note that all visits include unlimited communication via HIPAA-secure messaging for questions/joys/challenges indefinitely, but if it becomes obvious that you need another consultation, your IBCLC will let you know that.
Prenatal Consult

Virtual $200, Office $225

Initial Consult

(first time meeting parent with baby and complex issues)

Virtual $275, Office $325

Follow-up Consult

Virtual $200, Office $275

Mastering the Pump

(this type of visit does NOT include observation of a nursing session or oral evaluation of baby)

Virtual $200, Office $275

(includes the flanges and connectors that we find work best for you)

Bottle Consult

(when baby won't take bottle or has difficulty when bottlefeeding)

Virtual $225, Office $275

The fees for consultations are expected to be paid at the time of scheduling the consultation (you'll have an opportunity to pay when you sign up online or we'll send you an invoice via email that is expected to be paid by the day before your consultation).
If you pay via HSA or FSA, you must reimburse that account if your health insurance reimburses you for the visit.
Special Rates

60% discount for those on the WIC program (enter WICAPPT as your discount code and send jeanette@babiesincommon.com a photo of your WIC card)
40% off for MassHealth subscribers (enter MASSHEALTHAPPT and send a photo of your MassHealth card to jeanette@babiesincommon.com) If MassHealth is your secondary insurance, this discount is not applicable to you.
20% discount for military families (if either parent is active duty, your IBCLC, Jeanette, is an Army Brat herself!, just enter MILITARYAPPT and send jeanette@babiesincommon.com a photo of your active duty military ID)

If you are inducing lactation for an adopted baby or as baby's other nursing parent, we offer a 30% discount. (enter MAKEMILK as your discount code)

If you are transgender and want to induce lactation or work on chestfeeding, we offer a 50% discount (enter TRANSPRIDE as your discount code)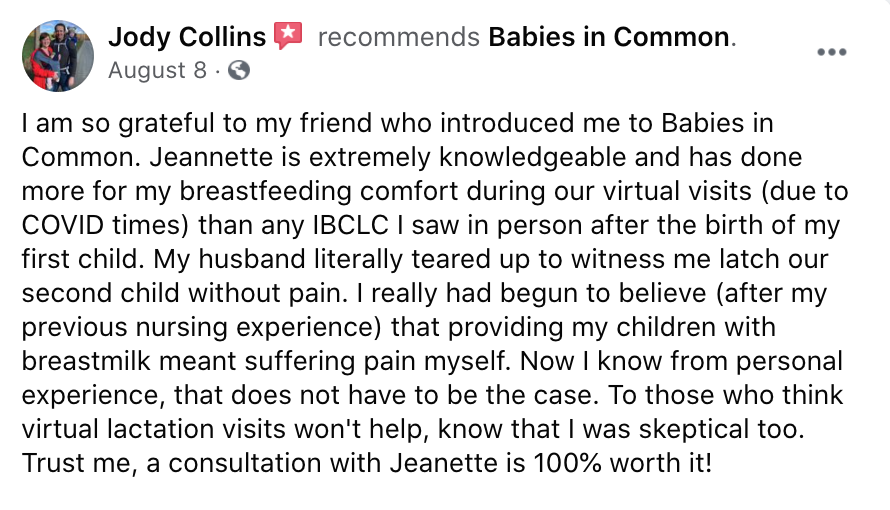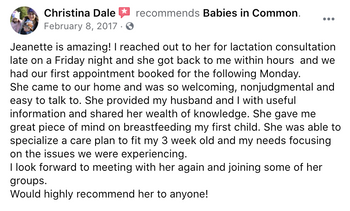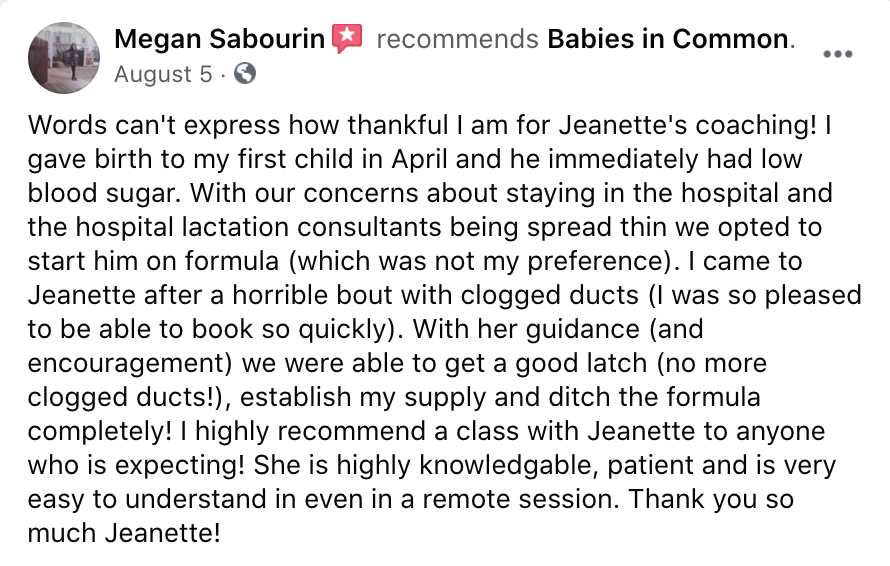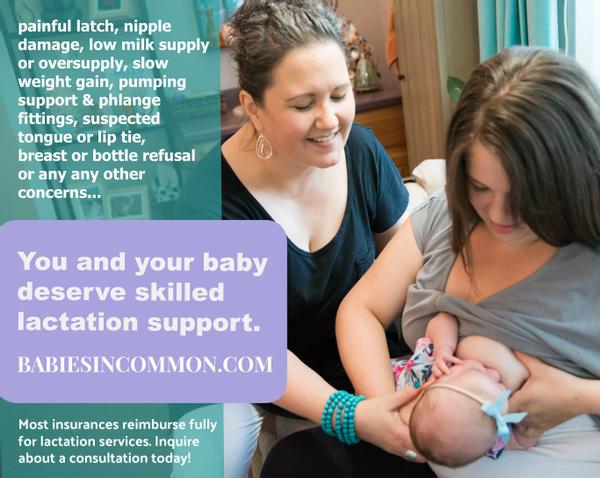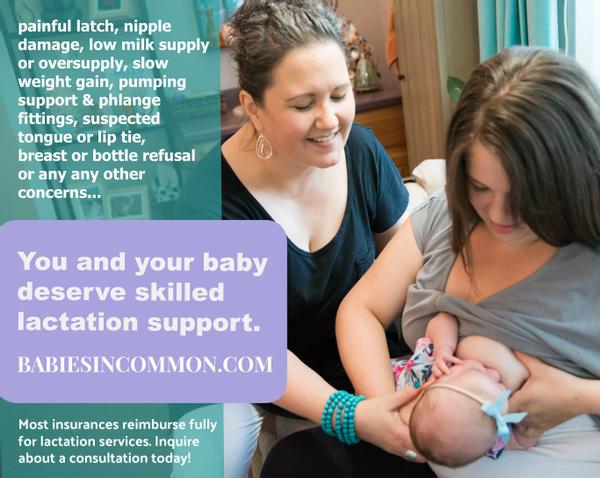 Schedule your appointment today. Sometimes appointments are available the next day, sometimes not for many days. If you need to reschedule, that's never a problem, we know life is unpredictable!
Schedule an appointment now!