Parents want to meet other parents and babies like to meet other pre-crawling babies. Nurturing Parent and Baby is warm and inviting space where you can meet each other, introduce your babies to each other and learn all about connecting with your babies. You'll learn developmentally appropriate activities to do with your baby, learn how to provide infant massage to your baby, and discover how to nurture yourself as a parent.
Advance registration is required using the links below.
One session is Tuesday, September 28, 9:30 am - 11:00 am
Then a 6-week series starts on Thursday, October 5th, also 9:30 am - 11:00 am.
Fathers and mothers are welcome. Breastfeeding, chestfeeding, bottlefeeding babies (human milk and/or formula) are all WELCOME!!!
1. the process of caring for and encouraging the growth or development of someone or something.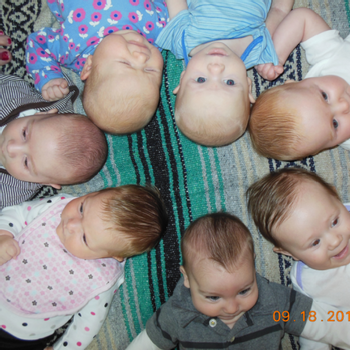 Nurturing Parent and Baby
Join Jill Vetstein, social worker, therapist, parent coach/educator, childcare provider educator, infant massage instructor and reiki master, as she guides you through infant massage techniques, reiki for yourself, self-care and relaxation techniques, activities and songs that help you bond with your baby and discussions about all things parenting and baby!
Parents want to connect to their babies (and each other), of course, but you'll also be able to discuss
Managing changes in routines, relationships and identify

baby development

Co-caregiving

And so much more
During each class, infant massage strokes will be taught. You'll learn HOW to massage as well as precautions to take.
Infant massage is a skill every parent should learn and practice with their babies daily! Infant massage:
enhances attachment between parent and baby

promotes r

elaxation for baby and parent

pr

omotes better sleep for baby and parent

facilitates body awareness for baby

boosts immune system for baby
provides sensory stimulation for baby
can improve skin condition for baby
may improve blood circulation for baby
supports digestion for baby
balances respiration for baby
can provide relief for teething pains for baby
helps alleviate constipation for baby
helps parents learn about their baby's need and desires
helps build parents' and baby's self-esteem
promotes motor development for baby
stimulates a pain relieving hormone called oxytocin for baby
empowers parents
Additionally, reiki will be given to each parent, if desired, while they practice massaging their babies.
Reiki
is an ancient Japanese healing method utilized in top hospitals worldwide. It can be performed with hands-on or hands-off techniques and helps to balance energy within the body. Reiki energy is a universal life force that supports the body, mind, and soul in self-healing. The energy flows naturally to where it is needed.
For parents and their pre-crawling baby (twins welcome, of course!).
A minimum number of registrants is required to run the session. If two parents of the baby you are bringing would like to attend at the same time, there's no additional fee!
One-time session on Tuesday, September 28, 9:30 - 11:00, $40.00
6-week series starting on Thursday, October 5, 9:30 am - 11:00 am, $240.00
Questions about group? Email jvetstein@gmail.com
YOUR FACILITATOR
Jill Vetstein, MSW, LICSW, CEIS
Integrative Mental Health - Energy Psychology ( Children and Adults)
Emotional Energy Reiki Healings
pronouns: she | her | hers