7 Ways to Make Travel Easier with a Little One
Categories: babies, miscellaneous, parenting, postpartum
Tags:

travel, toddler, baby, parent travel

February 20, 2015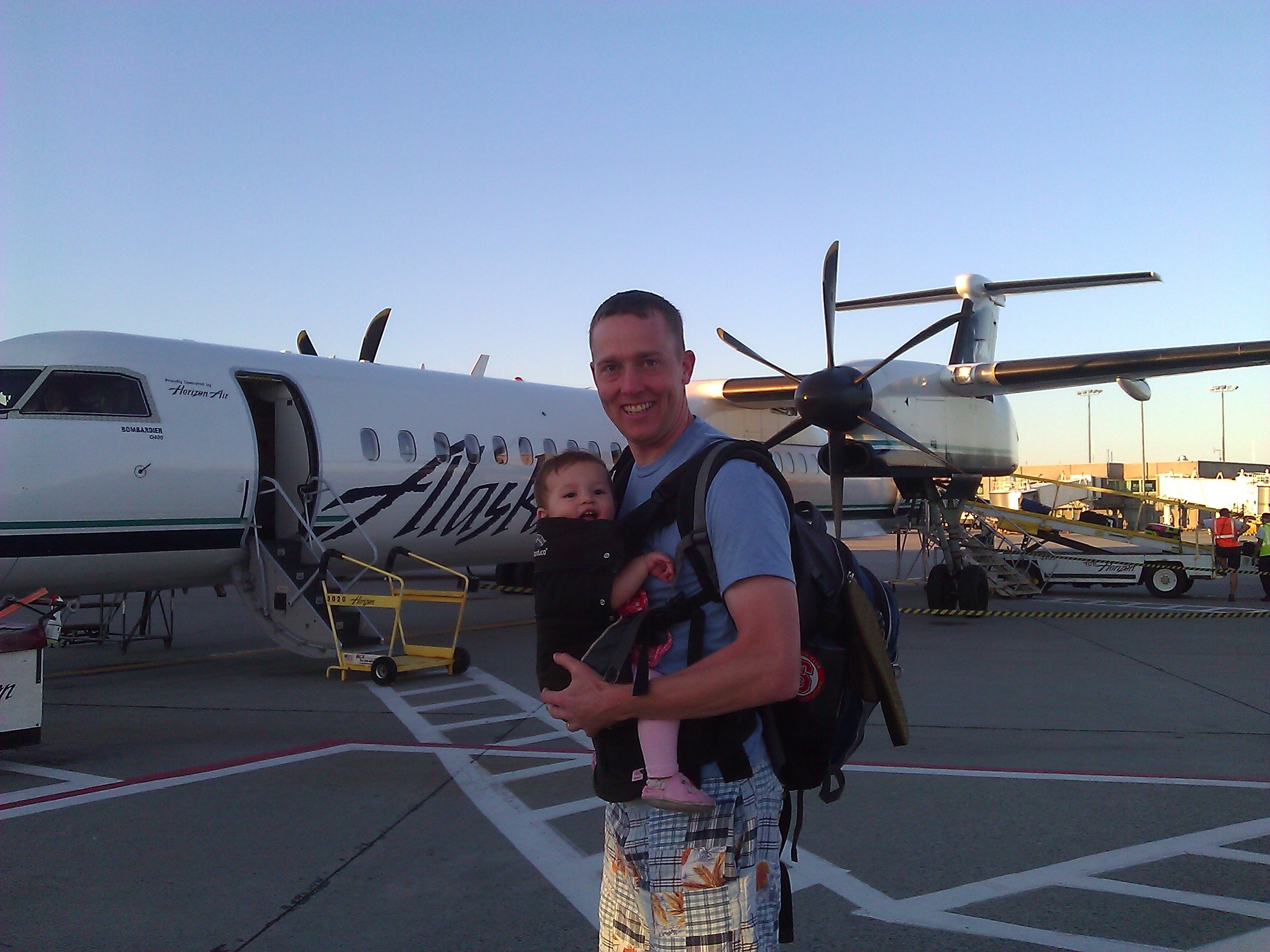 GUEST POST by Laura Clark, mother of Nora (age 2)
When I was pregnant, it seemed that everyone who looked at my belly told me that my traveling days were over. The prospect of spending the next eighteen years cooped up in my house after spending the majority of my adulthood traveling was simply depressing. That, coupled with the fact that my husband's job requires 50% travel, made us even more determined to instill a spirit of adventure in our unborn child. Nora took her first flight at 10 weeks old and hasn't stopped since. We have lost count, but we know that in 2013 she logged over 30,000 miles on US Air alone. She has flown cross country several times and has also been to Europe and back twice. We estimate that we have spent 25 weeks of her first 104 weeks traveling. Nora turned two this past December. Every parent can appreciate how bittersweet that milestone is. For us it marked the end of free "lap child" status and added a new expense column to our travel spreadsheet. Here are my top tips for traveling with a lap child.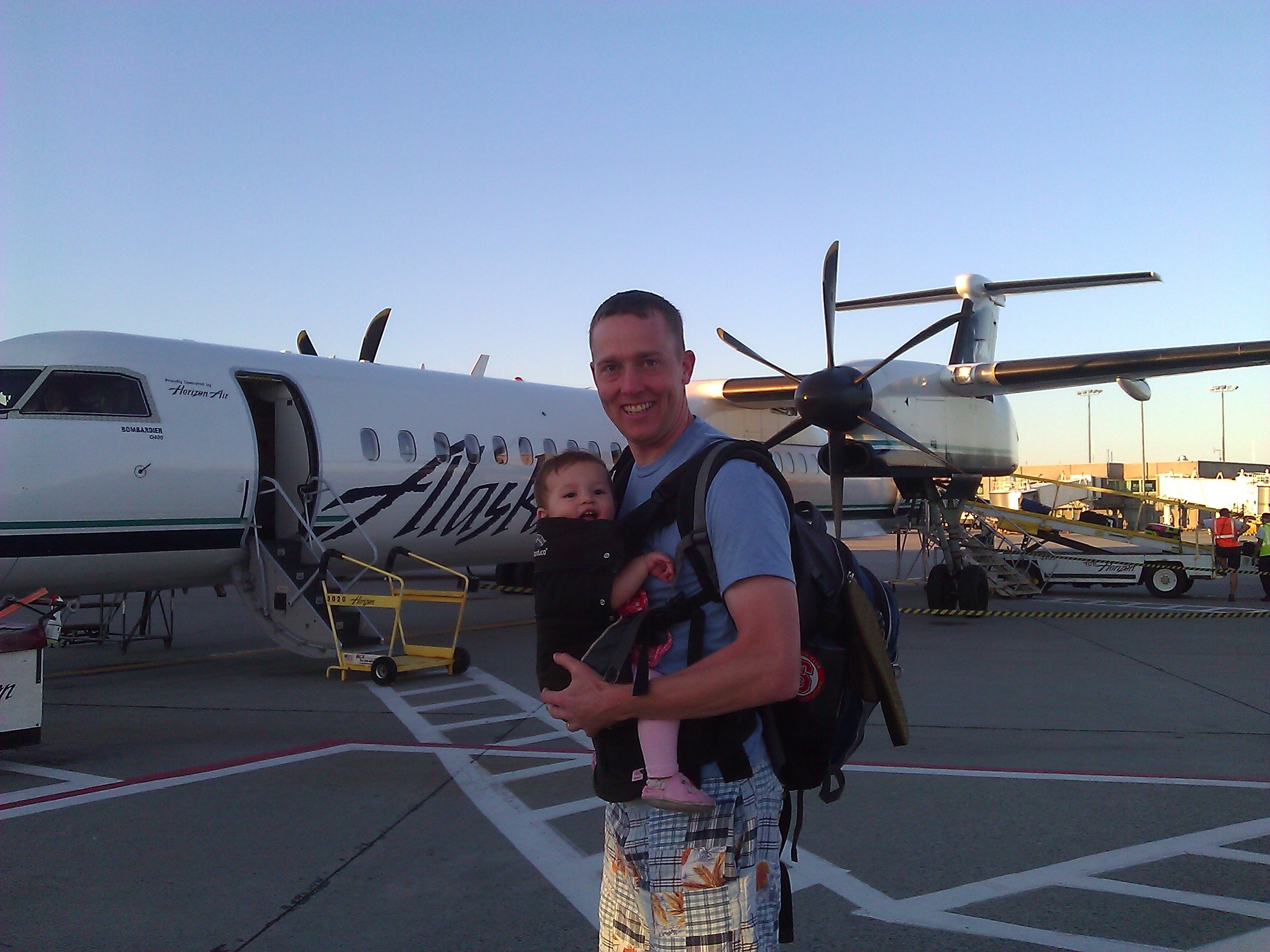 1. Nurse, feed, soothe, pacify, sleep on demand. My biggest concern before Nora's first flight was her ears. If you just let your baby suck, swallow and breathe when they want to, everything should be fine. We never had an issue. Offer milk at take-off and landing (unless sleeping). If your child has a history of ear issues, you might want to consult with a Chiropractor. My ear anxiety came from a lifetime of my own painful flights. When Nora was 14 months old, she saw a Chiropractor. I allowed the Chiropractor work on my ears. My next flight was pain free. Honestly life changing.
2. Pack light. My husband will seriously spit his drink out when he reads this. But, I PROMISE you that I pack lighter than any other mom that I have ever seen walking around an airport. I bring a backpack for a carry on. In it are diapers, wipes, a few favorite books, a few favorite small toys (Sophie, crayons, stickers), three extra outfits for the baby, an extra t-shirt and yoga pants for me(I learned that one the hard way), snacks, and an empty water bottle (that I fill up on the other side of security). Don't sweat it if you are carrying breast milk, formula or baby food with you. Just make it easily accessible to TSA and they will help you.
3. Baby wear. I use a SSC to navigate through the airport. Baby on the front, backpack on the back & hands are free for holding tickets, license and taking off your shoes. TSA (domestic or international) has never asked me to take the baby out of the carrier. You just go through the metal detector and have your hands swabbed for explosives. Easy peasy. If you want a stroller for your destination, you can check it for free. You must remove your child from the carrier for take-off and landing when on the plane.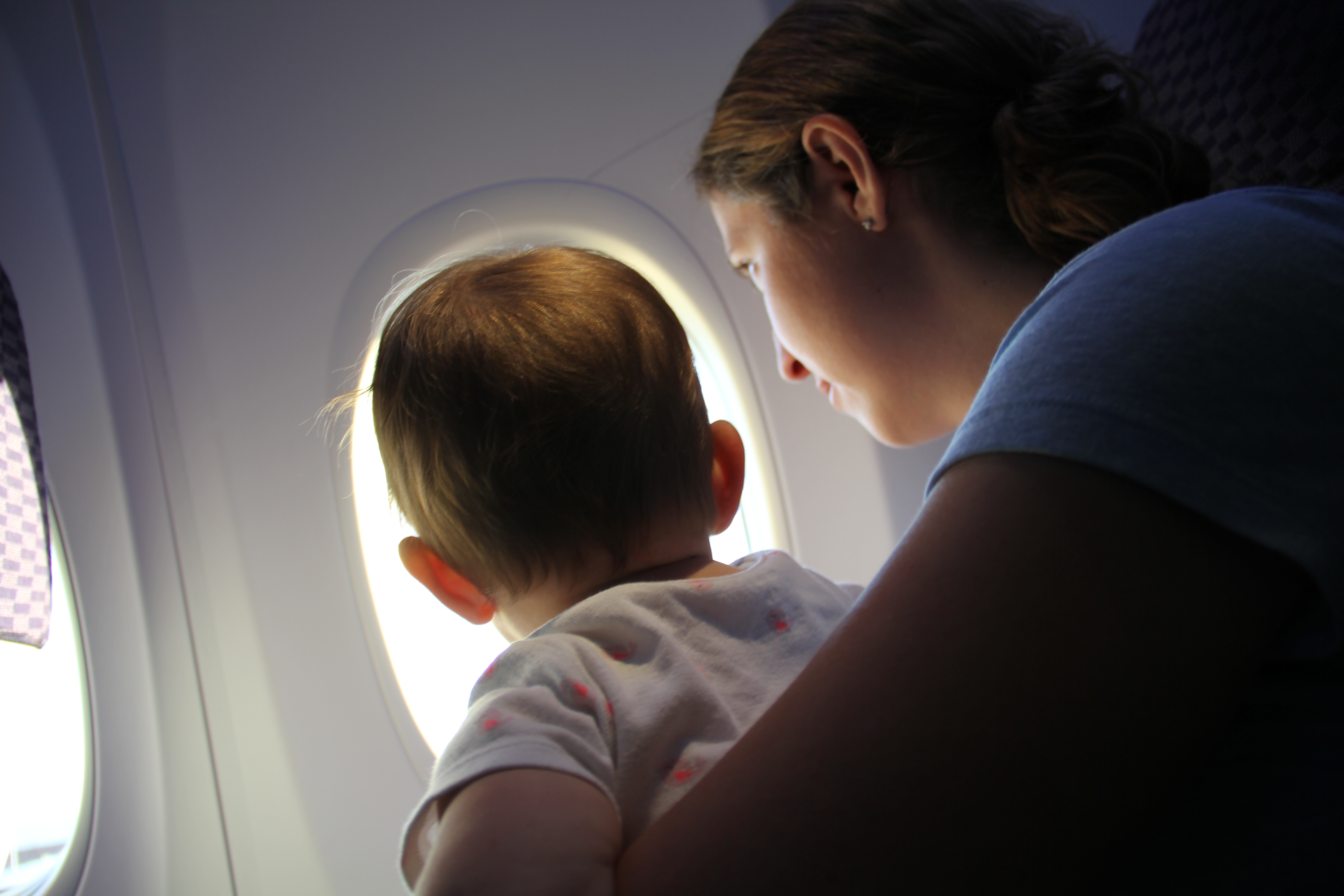 4. If there isn't a big price difference, a flight that begins one hour prior to naptime seems to work well. Nora gets on the plane, plays a little, looks out the window and then knocks herself out with some milk. We never pay more for this option. Sometimes she takes a nap on the first leg, sometimes on the second or sometimes on the third. She will eventually sleep. She always adjusts to new time zones long before we do. We just let her do her thing without trying to manipulate her internal clock. We are not opposed to stopovers. It gives us a chance to get out, run around and find a real bathroom. Price is absolutely our deciding factor when booking our ticket. Everything else eventually falls into place.
5. Choose your seats wisely. You are almost guaranteed seats to yourselves if you book the aisle and window seat in the last row of the plane. The middle seat of the last row is always the last one sold. When you get to the airport, you can ask the ticket or gate agent if there is a better row that is empty on the plane. If you are kind, they will help you jockey for better seats when available. When I fly alone with Nora, I always choose a window seat. Nora loves to look out the window & it provides us with free entertainment. You are allowed to bring a TSA approved car seat for free on the flight if there is an extra seat in your row. Check with the gate agent to make sure that there is room. If not, you can gate check it for free.
6. Be prepared. Not every plane has a changing table. Your child will have an explosive poop as soon as the plane takes off. We have found that sitting on the lid of the toilet and changing Nora in our lap is the easiest and least "germy" way to deal with this issue. As much as I love cloth diapers, I highly recommend disposables for travel days.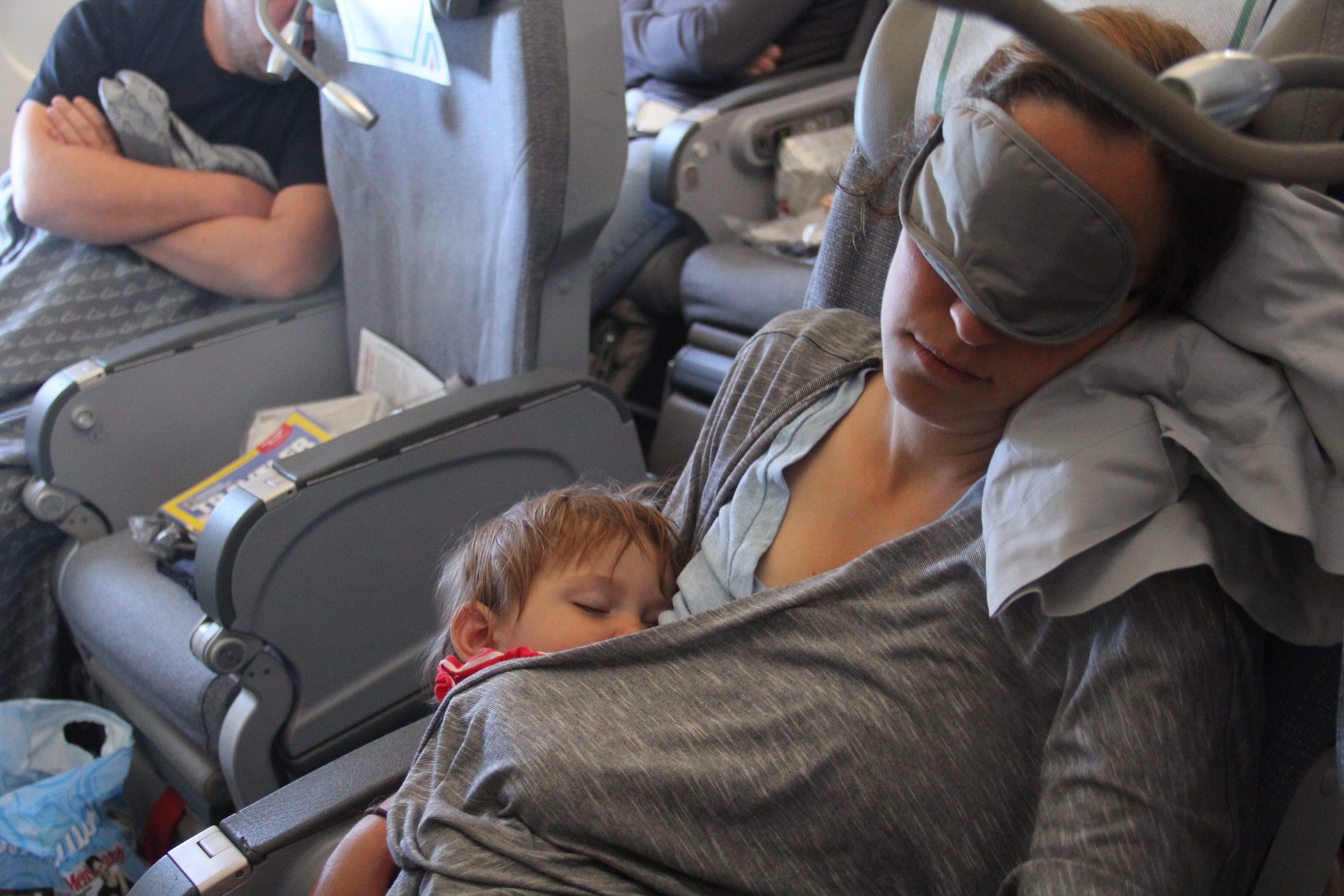 7. Check your social anxiety at the door. Whenever we get on a plane, the vast majority of people avoid eye contact. We just smile and settle ourselves into our seats. It is particularly amusing when we are upgraded to business class. We don't bring any Pintrest inspired goody-bags from our child to the rest of the plane. She is an inhabitant of this planet and has every right to be on the plane. We will not offer a preemptive apology of her existence to anyone. Just do the best that you can and ignore anyone who is less than supportive. Our child has never ceased to amaze us and always rises to the occasion. At the end of every flight, there is always someone who feels compelled to compliment her behavior. Even if your child has a complete meltdown onboard, rest assured that the same people who are rolling their eyes at you were the ones throwing fits on planes 30 years ago.
Bon Voyage! I hope to run into you at the Kidport play area at Terminal A, B or C at Logan for an impromptu play date.
If YOU have any travel tips, post them below in the Comments!