We've all been there...
"what is this new contraption?"
"how exactly does this pump work?"
"how can I be sure this is the right size flange for them?"
"what IS the best bottle for THIS baby?"
...now there's an ONLINE workshop that will explore various breastpumps & help you build confidence to better support you in your practice as an IBCLC and help you help your clients in choosing and using pumping and feeding gear.
If you are an International Board Certified Lactation Consultant, of course you've seen (and heard about) about different bottles, pumps, flanges, nipple shields, alternative feeding products and more...there are always new things coming on the market and it's hard to keep up.
We support families best in making choices when we are confident about how the items on the market work (or don't work as well as others). Let's talk about what products are out there, why you might lean toward one or another (or not). And let's talk about how to talk about them with our clients!
What is the Pumping & Feeding Gear Workshop?
This workshop provides IBCLCs with information, tools and techniques they want to have so they can provide practical support to families who are pumping and/or feeding infants. While no workshop could possibly have every product on the market, this workshop WILL have MANY for you to see and many will be demonstrated. And, as it's a workshop format, participants will be encouraged to share what they know and have experienced in their work with families related to pumping and feeding gear.
This is usually a two-part, 4-hour online workshop (occasionally 4-hour, 1-part workshop) led by Jeanette Mesite Frem, MHS, IBCLC, RLC of Babies in Common, who is an International Board Certified Lactation Consultant and experienced childbirth educator. Jeanette is experienced in doing flange fitting and pumping sessions with many milk-making parents as well as doing bottle consultations. She's collected and used many pumps, bottles and other gear in her practice and is is experienced with virtual consultations and using props for teaching parents and will utilize those skills during this online workshop.
What will be presented and discussed?
the many different types of pumps, brands, new, old, suction strength, speeds...

there'll be 20 electric pumps available either to ask about/see during the workshop or videos in the online library (your access is included with the class).

there'll be several

different manual pumps to be commented on, 4 different passive pumps and more gadgets!

pump settings--what works best?

20+ different types and sizes of flanges (also known as pump breast shields)

how to do a flange fitting with a client

different types and sizes of nipple shields, nipple everters, tube feeders, supplemental nursing systems and more

over 20 types of bottles and nipples and why some might be preferred by feeding professionals over others--let's talk about bottle shape, nipple shape, nipple material and flow rates

your workshop facilitator will touch the gear and demonstrate much of it for you (close to the camera so you can really see it!)

see videos of real parents pumping and using various gear

using hands as gear: learning more about using different types of props to demonstrate hand expression and breast massage

what gear you can consider having with you during your consultations, where to get it and how to pay for it

how you can support families with updated information on pumping and using various gear on the market today

this is also another opportunity to connect with each other and you'll be invited to join a private Facebook group for attendees of the workshop to discuss pumping and feeding gear in the future as issues with your own clients come up!
Who should join this workshop?
new IBCLCs
experienced IBCLCs who haven't used pumps and various bottles in their practice yet
experienced IBCLCs who want to build their confidence in doing pump flange fittings and helping families with bottles and other gear
"I have attended many of Jeanette's classes, the first of which was a breastfeeding class for health professionals. I was extremely impressed by her professionalism, humor, approachability, and breadth of knowledge. She is smart and up-to-date on scientific evidence, and she delivers extensive depth of information in a limited amount of time. I felt confident supporting families in feeding their babies after completing her awesome workshop! I highly recommend her classes for health professionals who care about evidence-based support for hungry babies!"
~ Nikki Chamoy, MD, MBA, Certified Childbirth Educator
My favorite demonstration doll and pump flanges set up for a fitting...
KEY DETAILS
WHERE
online, live and interactive, via Zoom
COST
$95 per person (price goes up to $125 in June)
Limited to 10 participants per workshop, minimum of 5 registrants to run workshop.
WHEN
This is usually a two-session workshop but occasionally is a one-session workshop, so pay attention to the dates before you sign up. Sign up for ONE of the following:
Two Thursdays, March 25 and April 1, 6:00 pm - 8:00 pm (Eastern Time - New York)
SOLD OUT
Two Tuesdays, April 6 and April 13, 10:00 am - 12:00 pm (Eastern Time - New York)
SOLD OUT
One Saturday, April 17, 1:00 pm - 5:15 pm (Eastern Time - New York)
SOLD OUT
Two Mondays, April 26 and May 3, 1:00 pm - 3:00 pm (Eastern Time - New York)
SOLD OUT
Two Thursdays, April 29 and May 6, 8:00 - 10:00 pm (Eastern Time - New York Time)
SOLD OUT
Two Saturdays, May 1 and 8, 7:00 - 9:00 pm (New York Time)
SOLD OUT
Two Thursdays, May 13 and 20, 11:00 am - 1:00 pm (New York Time)
SOLD OUT
Two Tuesdays, May 11 and May 18, 10:00 am - 12:00 pm (New York Time)
SOLD OUT
One Saturday, May 22, 1:00 - 5:15pm (New York Time)
Sign me up! only 2 spots left as of 3/31!
Two Thursdays, June 3 and June 10, 6:00 - 8:00 pm (New York Time)
Two Tuesdays, June 14 and 21, 11:00 am - 1:00 pm (New York Time)
NOTE: If you want to attend and can't attend any of the above offerings, please email jeanette@babiesincommon.com to be put on a waiting list and notified when new dates are added. Also be sure to include your location and whether you prefer weekday, weekend, morning, afternoon or evening (Boston/NY Time). International attendees are welcome!
CONTINUING EDUCATION CREDITS
CERPs were previously allocated by IBLCE for the in-person version of this workshop so one might assume this workshop would be granted CERPs in retrospect if you apply to IBLCE, but, of course, we cannot guarantee that whatsoever, so you'll have to ask IBLCE directly.
Contact jeanette@babiesincommon.com with questions.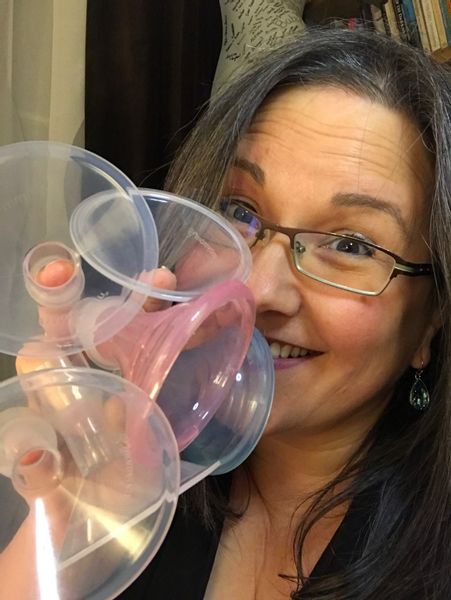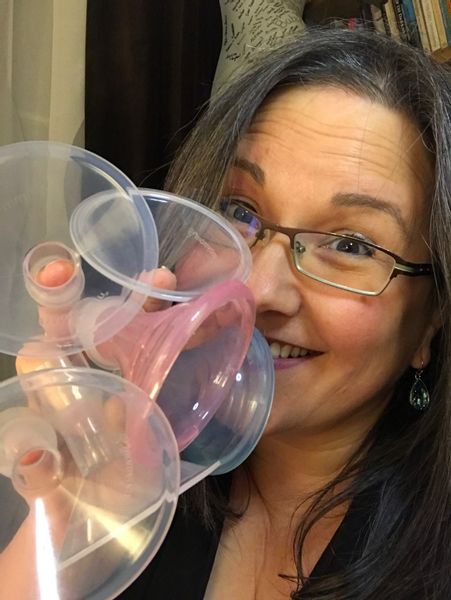 About Your Workshop Facilitator
Jeanette Mesite Frem, MHS, IBCLC, RLC, CCE, SBCPE, CD is an experienced childbirth educator, IBCLC-lactation consultant and retired birth doula. She started her career working with families while serving as a Peace Corps Volunteer in Côte d'Ivoire, West Africa in the early 90s. She loved that work so much she went on to receive a public health masters degree from Johns Hopkins School of Public Health, focusing her studies on nutrition for maternal and child health. Her two children were breastfed for more than 2 years each and Jeanette has experience pumping at work for both children and has supported more than a thousand families with breastfeeding, chestfeeding, pumping, bottlefeeding, cupfeeding, tubefeeding, etc. over the years.
Jeanette provides prenatal childbirth and breastfeeding classes at her office in Northborough, Massachusetts, as well as providing feeding virtual consultations as well as in her office. She also also enjoys leading workshops for perinatal health professionals and mentoring those who work with families. If you have questions, feel free to email jeanette@babiesincommon.com.
Testimonials from Participants in the In-person Version of This Workshop
I thought having parents pump for us to watch & learn from was an excellent tool! Having the parent use different flanges was quite impressive & helped demonstrate how using the correct size can make a big difference to expressed breast milk yield.
I thought everything was phenomenal! I learned so many new things including the differences in type of bottles & pacifiers parent of breast feeding babies should use, if desired. The use of visual aids(actual bottles/nipples/syringes/pumps etc) was awesome.
There are WAY too many tools out there and this must be so overwhelming for parents. It's helpful to know the pros and cons of various options to help our clients.
I think the format, setting & content was perfect. I would strongly recommend any professional who supports families in their breast feeding journey should take this class. I would take this course yearly just to stay up to date.
Jeannette is an excellent instructor who puts you at ease & encourages discussion. She is quite knowledgeable & shares the information in a multi-faceted manner to address all different learners.
A class for all levels of professionals to learn more about supporting parents through pumping and bottle feeding. There is an overwhelming amount of gear on the market, and it feels nearly impossible to provide any guidance to families. This class provides practical, hands on learning. You see, touch, put together and take apart all styles and brands. There is no better way to learn this material than hands on. I left with expertise and confidence to make meaningful recommendations to the next family I work with. Cate Johannessen, CLC, RN, Professional Birth Doula
I have had the pleasure of attending 2 different workshops that Jeanette Mesite-Frem has conducted and was extremely happy with both trainings. After each course, I have felt enthusiastic about helping families who are breastfeeding & empowered in my ability to use the knowledge learnt. I would highly recommend anyone who is in the Maternal Health or Pediatric field to participate in one of her trainings.
As a birth doula, it is so important for me to have current experience with any tools that will help my clients after the birth of their babies. Thank you, Jeanette, for sharing your expertise during your Pumping and Feeding Gear Workshop and thank you for inviting the nursing mothers to share their experiences. A great experience and I walked away with excellent information! Lori Frieling, birth doula
An excellent hands on workshop for any professional that supports infant feeding - breastfeeding, chestfeeding, bottle feeding. A great assortment of pumping and feeding gear with the opportunity to touch and try. Thank you!

Don't miss any updates or news from Babies in Common,
opt-in to the Babies in Common mailing list
Don't worry, we don't send too many emails, we promise.
And we'll never share your email with anyone!