What is Birth Circle?
A Birth Circle is an informational, inspirational, fun event where parents and parents-to-be come to talk about birth in a safe environment, without judgment. Most people who have given birth don't typically get an opportunity to share the positive and even not-to-positive aspects of their birth story (natural, medicated, Cesarean, hospital, birth center or homebirth) with others who are there JUST TO HEAR THE STORY...come share your story with others who really want to hear it!
This event is open to people who are pregnant, have given birth (ever!) or those who might someday--or if your partner doesn't plan to give birth but identifies as a woman they are also welcome. Birth workers also welcome.
While of course, there may be some negative parts to your story which you are welcome to share, Birth Circle is not a place to try to fully process your traumatic birth but feel free to tell your story and also consider calling one or more of the specialists for mental health listed on the Resources page of this website.
Birth Circles tend to include laughter, questions, learning, inspiration and lots of listening.
Dress comfortably. Pajamas are welcome. Feel free to bring snacks to share!
As long as state guidelines allow, this will be an indoor, masked and distanced event (unless everyone attending wants to be mask-free, which will be asked before the meeting to each person privately).
Ask questions as people are telling their stories, connect with others and enjoy!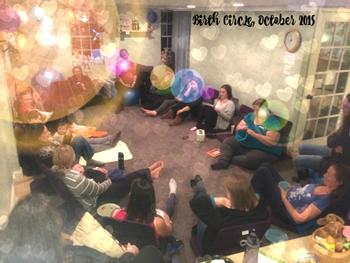 What is the Cost?
$10 per person (per adult)
Advance registration is required.
When is the Next Birth Circle?
TBD
Don't miss any updates or news from Babies in Common,
opt-in to the Babies in Common mailing list
Don't worry, we don't send too many emails, we promise.
And we'll never share your email with anyone!